Bill Smallwood's Memorial Fishing Match
Earliest Memories
My earliest memories of my Dad, Bill Smallwood, usually involve fishing. Whether it is him taking myself and my friends up the canal to fish; racing maggots along the car dashboard or helping him sort his floats, he always tried to get me involved.
If he wasn't at home or work you could find him fishing at Kingsbury Water Park.
Over the years he met anglers young and old. He would do his best to support the younger lads by offering advice, showing them how to set up their kit and tipping them off on the best spots to fish that day.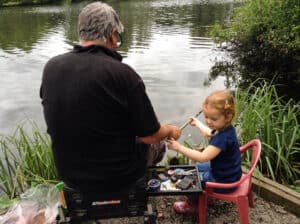 Illness and the Pandemic
When COVID-19 hit I gave my parents the instructions to go nowhere. I did their shopping and fetched anything they required so that they didn't need to leave the house. Each time we visited to drop stuff off my parents would hang out the bedroom windows to have a chat. As the weeks went on my Dad appeared for a shorter time at the window, or sometimes not at all.
He complained of back-ache. I assumed it was because he was confined to the house and lacked exercise. One day my Mom called. There was a commotion in the background. An ambulance had arrived as my Dad couldn't move his legs. That morning he woke up in pain. He had managed to get downstairs and make himself breakfast, but this had tired him out. He fell asleep on the sofa and when he woke, he couldn't walk – and would never walk again.
Dad was in hospital for over 2 months. During that time, we learnt he had cancer; Non-Hodgkin's lymphoma. The cancer had formed a mass surrounding his aorta which was restricting blood flow to any part of his body below it. Chemotherapy was unsuccessful and the decision was made that he would come home and live the rest of his days with his family.
He was brave. Throughout his stay at hospital several doctors would phone and tell us that he had no concern for himself. His only concern was how his family would manage once he had gone. Whenever we spoke to him on the phone he would console us or give us instructions about how to look after ourselves once he had passed.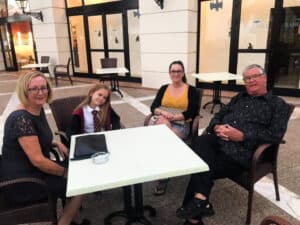 Dad back Home
Only once did I ever see him sad. When he got home Mom and Dad celebrated their 50th wedding anniversary. He requested fish and chips and champagne. Which we all enjoyed together. We toasted them and then he told us he was fed-up. It was then we realised how much this debilitating disease was affecting him, but he was keeping that from us.
Once home he was looked after by District Nurses, Carers, Macmillan and of course Mary Ann Evans Hospice. The support we received gave us advice and practical help on things such as – how to manage his illness, coping with any potential money worries, emotional support for the whole family and night-time visits – He was home with us for such a short time, but the support we received will leave us forever thankful.
In His Memory
After his passing, we went to choose a location for a memorial bench in my Dad's name in Kingsbury Water Park. That was the first time I had visited when I knew he definitely wouldn't be there. It felt strange, but then comforting to be somewhere he loved. We chose a spot where I often found him. It was a great place to choose.
A few months ago, I was contacted by a guy called Nick, one of Dad's friends from fishing. He had met Dad many years ago when he was a kid just starting out as a fisherman. Nick and other regular fishers at Kingsbury; Martin, Dave, Duncan and Chris, had arranged a memorial fishing competition in my Dad's honour. Kingsbury Water Park had kindly offered their largest fishing pool for free to hold the event. Nick told me that it was to raise money for a charity of the family's choice. Of course, we chose Mary Ann Evans Hospice who had done all they could to ensure that Dad passed in the comfort of his own home.
Find out more about fishing at Kingsbury Water Park right here.
The Memorial Fishing Match
The event was amazing and despite the awful weather many of his friends turned out to support the competition. Not everyone fished. There were plenty of his friends walking the banks and chatting to the competitors. All his fishing friends that I had met through the years, stopped to tell me that Dad would have loved it…and they were right. He would have loved to have been remembered in that way.
His funeral was held at a time where everything was limited and his wake was unable to go ahead. This seemed to be the tribute that was missing. His friends at the bank, doing the thing they all shared a love for, whilst remembering him.
The memorial match raised over £400 for Mary-Ann Evans Hospice and all competitors and supporters had a wonderful day. Incredibly 70lbs worth of fish was how much our winner managed to catch – which I'm told is a lot! There was a jubilant atmosphere and it was later proposed that the match would be held annually. We are all very pleased to hear this.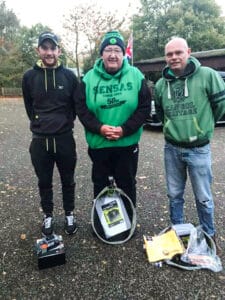 Dad's Legacy
Some of Dad's fishing gear has gone to some of our friend's kids who are just starting their fishing journey. We thought that would be what Dad would have wanted – that even though he's gone, he is still able to help kids get interested and passionate about fishing.