Feelgood Friday
03 Sep 2021
Every Friday we're looking to give something back and show what we are grateful for this week! We know that charities don't run on rainbows and sunshine. So we often have to ask for your help, whether that is supporting one of our fantastic campaigns or even sharing a little of your precious time to help us out.
To say thank you to everyone, big or small, we want to show you we truly are grateful for everything you do for us. So here are our big thank-you's this week.
Mayor's Appeal 2021-2022
If you were out and about in Nuneaton town centre last weekend, you may have noticed a slight Mary Ann presence. We were out in force with the Mayor of Nuneaton and Bedworth, raising vital funds for the Hospice. Thank you to everyone who contributed. We will be in Bedworth town centre this weekend doing much of the same thing. We hope to see you there! Your support is so important to us, so thank you to each and everyone who has supported the Hospice in recent times.
Corporate Thank Yous
A huge thank you to Arnold Clark who have made a very generous donation to Mary Ann through their Community Fund. We are delighted that they have chosen to support us and given us vital funds to continue our work in the community.
We were also delighted to have a visit from representatives of Warwickshire's Masonic Lodges, who presented the Hospice with a cheque of £2000 to continue providing the good work we do throughout the community.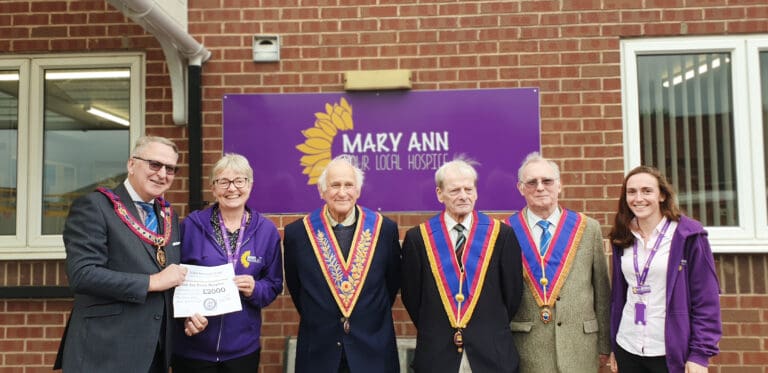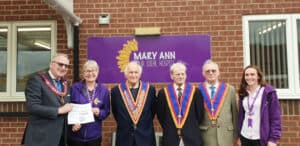 Volunteer Vacancies
Want to have more meaning in your life? Do you want to do something that is satisfying and of great service to your community? Then become a Hospice Driver!
We're also looking for any budding or seasoned gardeners. We need some TLC in our garden to make it ship shape for our patients.
Find out more here or call 02476 865440 and ask for Hannah.