Whether you are buying, selling, letting or renting we aim to make your move as smooth as possible. Loveitts have been the cornerstone of Coventry and Warwickshire life for 175 years.
Founded in 1843 the principles of customer care, trustworthiness and honesty developed all those years ago still hold firm today.
Full Circle Events & Exhibitions is the UK's Largest Independent Full Service Events Supplier. Ideally located in Manchester, Birmingham and London; everything is designed, manufactured & produced In-house. Our offices and workshops design and construct custom built and prefabricated exhibits for the events industry. 
"Mary Ann offer a fundamental service within the community to the highest of standards for such an amazing cause that effects so many people each day, building on the foundations of creating a family approach while offering supportive services to all with.
Since the COVID-19 pandemic Full Circle have strived to grow and protect, being heavily involved in the building of a number of hospitals and vaccination centres across the UK.
We have invested in new regional offices with new regional teams to open both new opportunities for Full Circle but also their employees, families and new communities.
Full Circle have a family ethos, like Mary Ann, and where we have opened new offices we want to work collaboratively within that community, which has led to us to supporting Mary Ann.
Mary Ann and Full Circle have shared values of working collaboratively for positive change within communities, putting people and team at the forefront of what we both do.
Working within the events sector, the London Marathon is one of the most iconic annual events for charities and sporting professionals – to have our company branding on the vests of those running for such a fantastic cause is an honour."
Devall & Son Family Funeral Directors was established in 1986 by David & Stephanie Devall. As a family run business Devall & Son has quickly grown to become renowned as well respected and trusted funeral directors in both Nuneaton and Coventry. 
We are proud to provide a holistic service to our families as we support them with funeral arrangements, memorial jewellery, headstones and pre-paid funeral plans.
"We have served the bereaved in our local community for over 35 years and we feel strongly that it is important to care for those closest to you. That is why we have chosen to support the Mary Ann Evans Hospice a local charity in the heart of our community."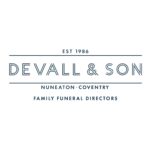 There are so many ways to support Mary Ann. From creating your own fundraiser, to taking on a challenge event, volunteering some of your time to getting your school, group or company involved. We're always here to listen and guide, we welcome all kinds of support big or small.